SOUNDS 166/Dezember '82
Cover: Siouxsie

Leserbriefe
Dies & Das
Bauhaus (spielen Ziggy Stardust und Enos Third Uncle nach)
Diana Ross (konnte Andy Warhol als Covergestalter gewinnen)
Madness (Foto als football-team)
Spandau Ballet (Single 'Lifeline')
Divine (mit charakterlosem Neo-Disco-Produkt)
Die Grosse Freiheit - Groß im Stil und frei im Spiel, Stu 'Snatch' Seemi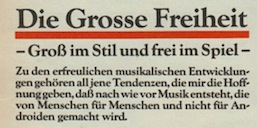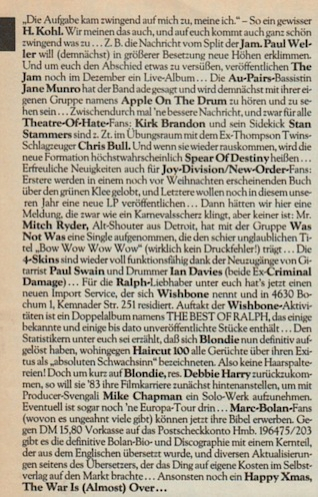 Konk (mit hypnotischem Bronx/Rap-beeinflußtem Puerto-Rico-Percussion-Jazz)
Zeitgeist (BEST OF-Show mit allem, was gegenwärtig in der Kunstszene hip ist)
1990 - die bedingungslose Kapitulation oder: Man weiß ja nie, wozu's gut ist…., B. Trug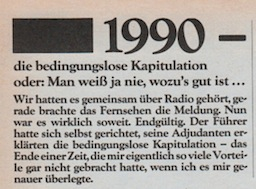 Hermine - Ein Mädchen und Frankreich und die Liebe zur Insel, Bertram Job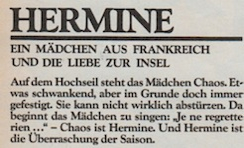 Mettmann? Mettmann! (Luzibär), Alf Burchardt





Hot Chocolate, Tina Hohl





Singles, Ewald Braunsteiner, Diedrich Diederichsen, Kid P., Michael Ruff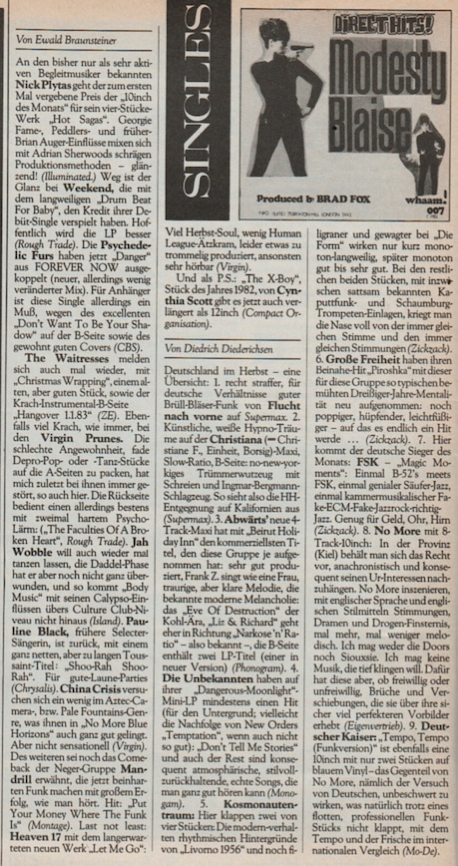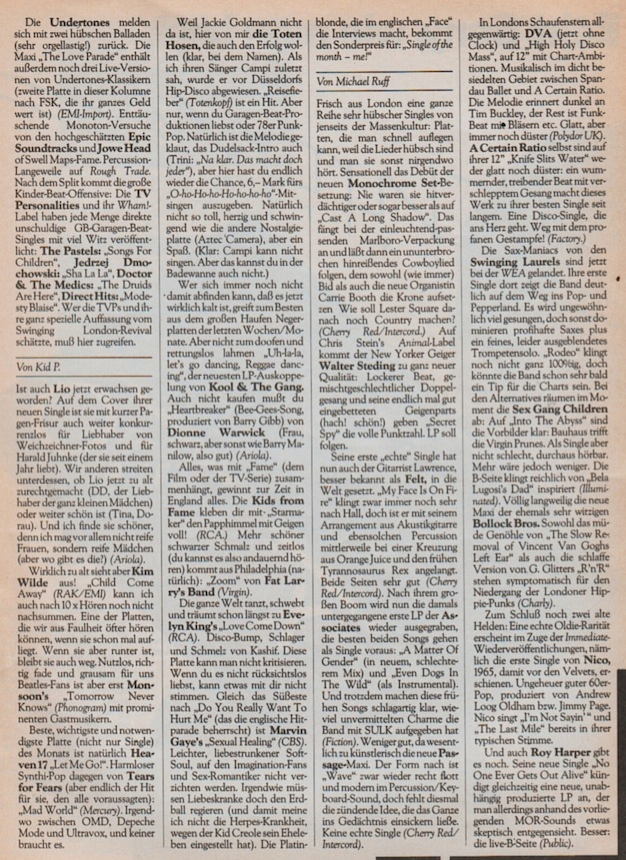 Features
Kool & The Gang - Ein Ausflug aufs Land (und ein netter, kleiner Zufall), Hans Keller





The Passage, Ewald Braunsteiner





James White - Der Wert von Integrität, Hans Keller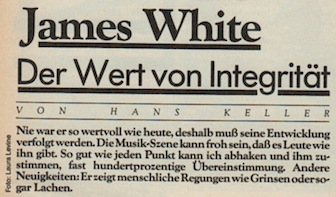 Herbstsaison - Die große Depression, Diedrich Diederichsen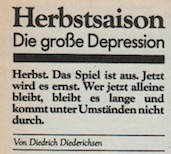 Mehr Herbst, Roxy Music, Japan u.a., Kid P.
The Honeymoon Killers - Mondfinsternis im Honeymoon, Michael O.R. Kröher





Siouxsie and the Banshees - El Papa, El Socialismo Y La Siouxsie Furiosa, Kid P.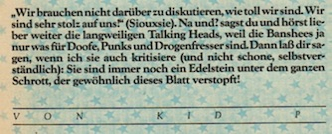 Chris Stein, Alive, NYC 30/9/82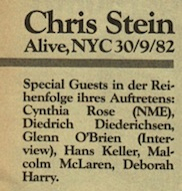 CrAss, Jürgen Bürling





Filme
Nicholas Meyer, Star Trek II - Der Zorn des Khan, Kid P.
Jean-Pierre Melville, Die Millionen eines Gehetzten, Gad Klein
John Carpenter, Das Ding Aus Einer Anderen Welt, Kid P.
Niklaus Schillings, Der Westen Leuchtet, Gad Klein
Video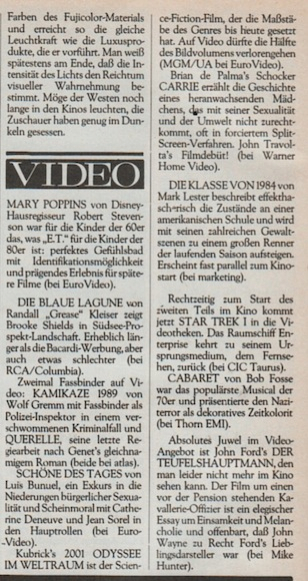 Bücher
Jacques Tardi, Jean-Patrick Manchette, Der Schnüffler & Jaques Tardi, Adeles ungewöhnliche Abenteuer 1 + 2, Georg Seeßlen
Boris Vian, Drehwurm, Swing und das Plankton, Michael O.R. Kröher
Kurt Raab/Karsten Peters, Die Sehnsucht des Rainer Werner Fassbinder, Kid P.

Platten
Orange Juice, Rip It Up, Diedrich Diederichsen
Blue Rondo A La Turk, Chewing The Fat, Kid P.
Die Zimmermänner, 1001 Wege Sex Zu Machen, Ohne Daran Spass Zu Haben, Tina Hohl
Peter Hammill, Enter K, Michael Ruff
David Bowie, At The Tower Philadelphia, Diedrich Diederichsen
Adam Ant, Friend Or Foe, Kid P.
The Roches, Keep On Doing, Michael O.R. Kröher
Chic, Tongue In Chic & Material, One Down, Hans Keller
Cabaret Voltaire, Hai! & Stephen Mallinder, Pow-Wow, Michael Ruff
Siouxsie & The Banshees, A Kiss In the Dreamhouse, Kid P.
Imagination, In The Heat Of the Night, Tina Hohl
Captain Sensible, Women And Captains First, Diedrich Diederichsen
The Damned, Strawberries, Georg Seeßlen
Revolutions Per Minute (The Art Record), Harald inHülsen
November Group, Same & Rubber Rodeo, Same, Ewald Braunsteiner
Madness, Rise And Fall, Kid P.
Ja Ja Ja, Same & Stille Hoffnung, Falsch Und Umsonst & Underground Hits I, Konrad Schnabel
Barry Reynolds, I Scare Myself & Grace Jones, Living My Life, Diedrich Diederichsen
Ludus, Riding The Rag & Tuxedomoon, Suite En Sous Sol & Clock DVA, White Souls In Black Suits, Michael Ruff
Artery, Oceans & The Danse Society, Seduction, Harald inHülsen
Erazerhead, The Rumble Of The East & Charged G.B.H., City Baby Attacked By Rats & The Destructors, Exercise The Demons Of Youth, Alf Burchardt
The Promenaders, Same, Ewald Braunsteiner
The Beat, Special Beat Service, Diedrich Diederichsen
Larry Graham, Sooner Or Later & Klymaxx, Girls Will be Girls & Donald Byrd And 125th Street, N.Y.C., Words, Sounds, Colors And Shapes & Michael McDonald, If That's What It Takes, Ewald Braunsteiner
Lou Rawls, Now is The Time & Barry White, Change & Isley Brothers, The Real Deal & Average White Band, Cupid's Fashion & Jermaine Jackson, Let Me Tickle You Fancy, Jens Kraft
Verschiedene Künstler, Amarcord Nino Rota, Harald inHülsen
Fred Frith, Live In Japan, Michael Ruff
Kate & Anna McGarrigle, Love Over And Over, Michael O.R. Kröher
Peter Laughner, Same, Michael Ruff
The Flesh Eaters, Forever Come Today, Harald inHülsen
Eyeless In Gaza, Drumming The Beating Heart & Pale Hands I Loved So Well, Michael Ruff

Cassetten, GEN 82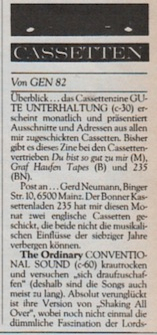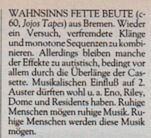 Kurz &
The Tronics, Same
The Wake, Harmony, M.R.
Orchestra Makassy, Agwaya, K.F.
James Blood Ulmer, Black Rock
Perfect Zebras, Mixing With Wildlife
Romeo Void, Benefactor
Kate Bush, The Dreaming, D.D.
Devo, Oh NO! It's Devo, K.S.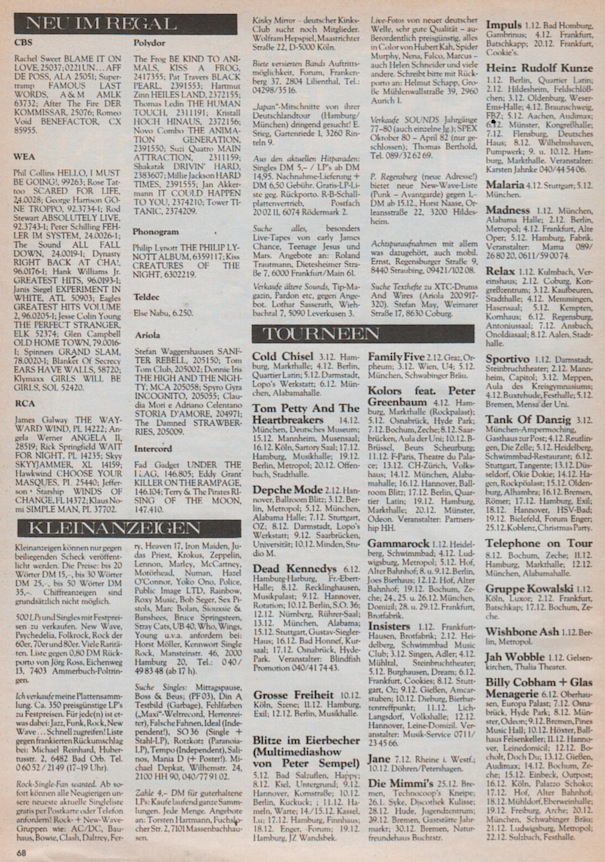 Kleinanzeigen

Tourneen
Cold Chisel
Tom Petty And The Heartbreakers
Depeche Mod
Dead Kennedys
Grosse Freiheit
Blitze im Eierbecher (Multimedia Show von Peter Sempel)
Family Five
Kolors feat. Peter Greenbaum
Gammarock
Insisters
Jane
Die Mimmi's
Impuls
Heinz Rudolf Kunze
Malaria
Madness
Relax
Sportivo
Tank Of Danzig
Telephone On Tour
Gruppe Kowalski
Wishbone Ash
Jah Wobble
Billy Cobham + Glas Menagerie

Im nächsten Heft