SOUNDS 126/August '79
Cover: Dire Straits

Leserbriefe
Dies & Das
Punk bis zum Untergang (Zweite Punknacht in Hamburg)
Endlich…(CBS mit lange gewünschter Wiederveröffentlichung: It's A Beautiful Day)
Boomtown Rats at the movies (..machen einen Film)
3. Juli (Sounds Redaktion erfährt vom Tode Lowell Georges)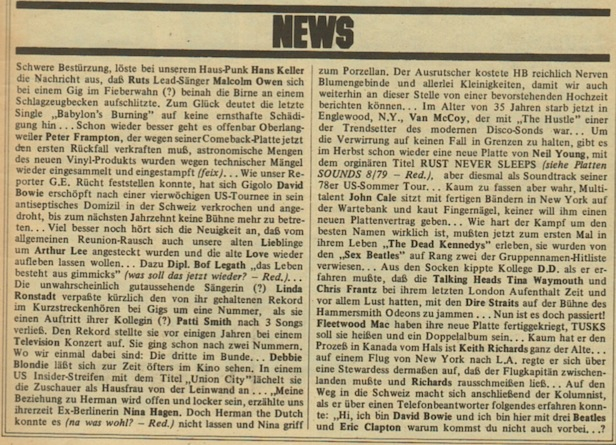 Holzstock, vorletzte Folge? (Fällt wohl doch aus)
Feuerwerk auf kleinen Flämmchen (Diesjähriges Loreley-Festival kein Desaster)
Meanwhile in New York…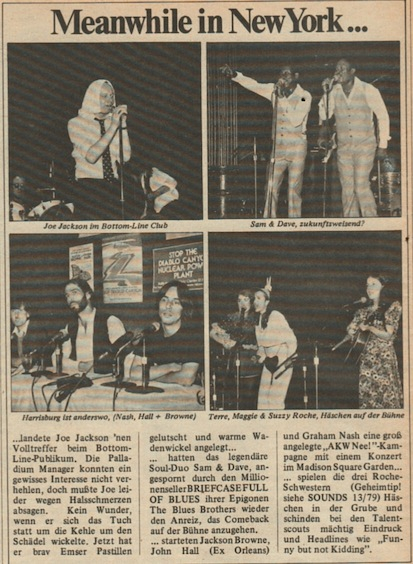 Knacki Chuck? (Chuck Berry droht Gefängnis wegen Steuerhinterziehung)
Sniff'n the Straß'nraub (Sniff 'n The Tears sauer über kurzen Loreley Auftritt)
Kieler Woche'79 - Ein Ausflug in die Kulturvielfalt, Michael O.R. Kröher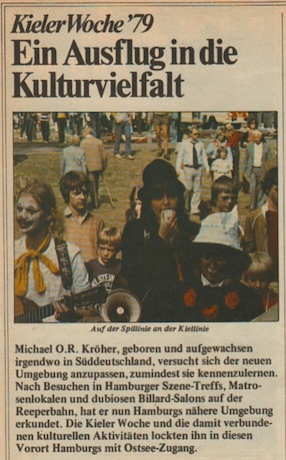 Roskilde '79 - Heiße Musik an kalten Tagen, Michael O.R. Kröher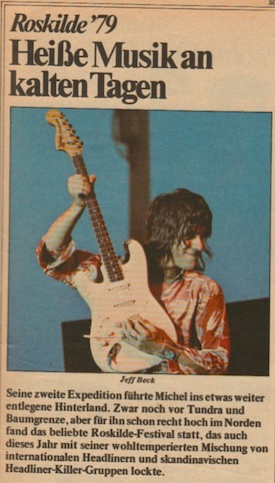 Steele Pulse- Handsworth ist überall, Reinhard Kunert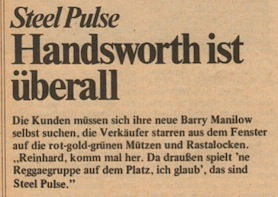 Rock gegen Rechts - Blauer Bock auf Links? Alfred Hilsberg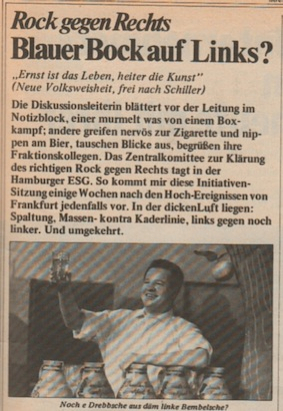 The B-52's - Futuristische Tanzmusik, Diedrich Diederichsen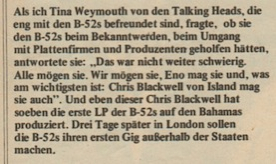 Nacht über Kreuzberg (SO36 schließt), Lothar Frankfurth




Steve Forbert - Die Milchmann-Rechnung ging auf, Michael Schlüter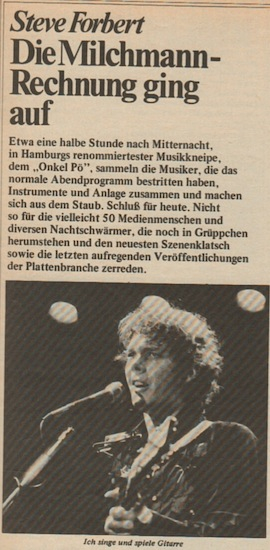 TV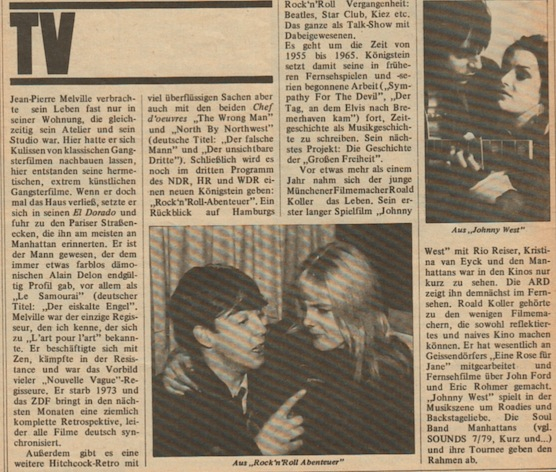 Features
Peter Tosh - Patois des Protests, Reinhard Kunert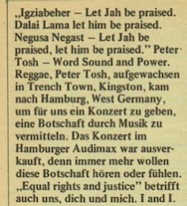 Bootlegging - Kleine Löcher im System, Teil 2, Alfred Hilsberg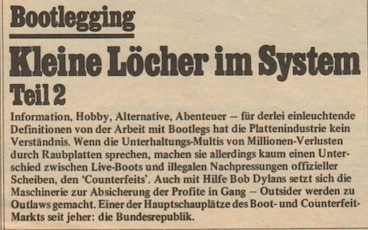 Die Ferien des Mr. Ryder, (Mitch Ryder) Jörg Gülden





Die Amerikanisierung des Ulli Lommel, Victor Bockries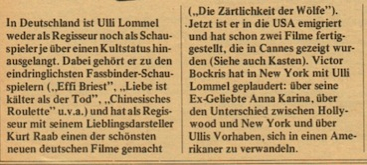 Dire Straits - Straitocasters oder Überlebenskünstler?, Roy Carr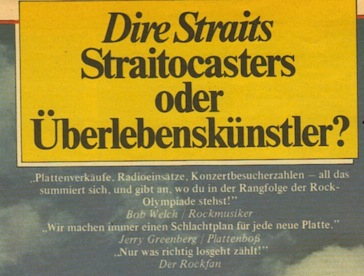 Filme
Russ Meyer, Eruption, Stephan T. Ohrt
Jeff Liebermann, Blue Sunshine, Diedrich Diederichsen
Adolf Winkelmann, Die Abfahrer, Eric Oluf Jauch
Walter Hill, Die Warriors, Diedrich Diederichsen
Was sonst noch läuft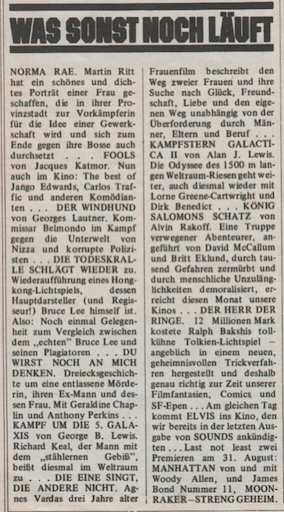 Bücher
Carlos Castaneda, Der zweite Ring der Kraft, Hans Keller
Gilles Deleuze / Felix Guattari, Rhizom, Diedrich Diederichsen
Hans C. Blumenberg, Die Kamera in Augenhöhe - Begegnungen mit Howard Hawks, Roger Willoughby

Platten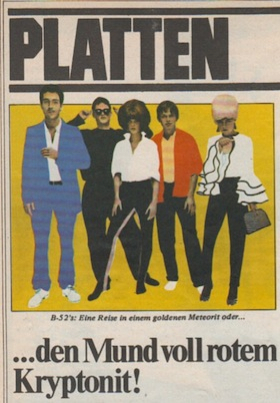 The B-52's, Same, von allen
Mittagspause, Same, Alfred Hilsberg
Rufus, Numbers & Tower Of Power, Back On The Streets & War, The Music Band & Earth, Wind & Fire, I Am, Ewald Braunsteiner
Nick Lowe, Labour Of Lust, Jörg Gülden
Dave Edmunds, Repeat When Necessary, Michael O.R. Kröher
Devo, Duty Now For The Future, Hans Keller
Joni Mitchell, Mingus, Diedrich Diederichsen
Maurizio Fabrizio, Movements In The Sky, Michael O.R. Kröher
The Cars, Candy-O, Thomas Buttler
Ramones, It's Alive & Rock 'N' Roll High School, Alfred Hilsberg
Neil Young & Crazy Horse, Rust Never Sleeps, Michael Schlüter
Toots & the Maytals, Pass The Pipe & Dennis Brown Words Of Wisdom, Reinhard Kunert
Moon Martin, Escape From Domination, Bernd Gockel
The Records, Shades In Bed, Bernd Matheja
Walter Moßmann, Frühlingsanfang, Jürgen Frey
Kevin Coyne / Dagmar Krause, Babble (Songs For Lonely Lovers), Alfred Hilsberg
Don McLean, Chain Lightning, Manfred Gillig
The Bishops, Cross Cuts & The Undertones, Same & The Police, Outlandos D'Amour, Roger Willoughby
Henry Paul Band, Grey Ghost, Hans-Willi Andresen
The Flamin' Groovies, Jumpin' In the Night, Alfred Hilsberg
Flash And The Pan, Same, Greta Grundlos
Amii Stewart, Knock On Wood, Michael O.R. Kröher
Robert Palmer, Secrets, Diedrich Diederichsen
The Tramps, The Whole World's Dancing & Supercharge, Bodyrhythm, Ewald Braunsteiner
Couchois, Same & Louisiana's Leroux, Keep The Fire Burning & Tycoon, Same & Blackfoot, Strikes, Thomas Buttler
Arlo Guthrie With Shenandoah, Outlasting The Blues, Ekki Schädel

Kurz &…
Into The Future, Konnekschen
Wolfgang Ambros, Live - Auf Ana Langen, Finster'n Stross'n
Art Ensemble Of Chicago, Nice Guys
Dr. Feelgood, As It Happens
Gino Soccio, Outline
Frederic Mirage, Atlantic

New Wave-Singles
Hans Keller
PIL, Death Disco
Ruts, Babylon's Burning
R.L. Cruchfield, Dark Day
Gang Of Four, At Home He's A Tourist
The Specials, Gangsters
Prag VEC, Expert
Doctormix, No Fun
Salinos, EP
Teardrop Explodes, Bouncing Babies
Move, EP
Human League, Dignity Of Labour
Poison Girls / Fatal Microbes, EP
Cabaret Voltaire, Hopp! Hopp! Hopp!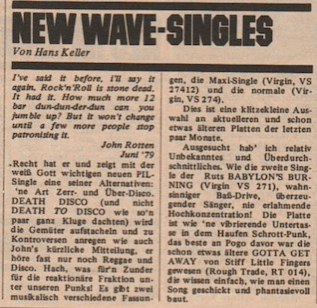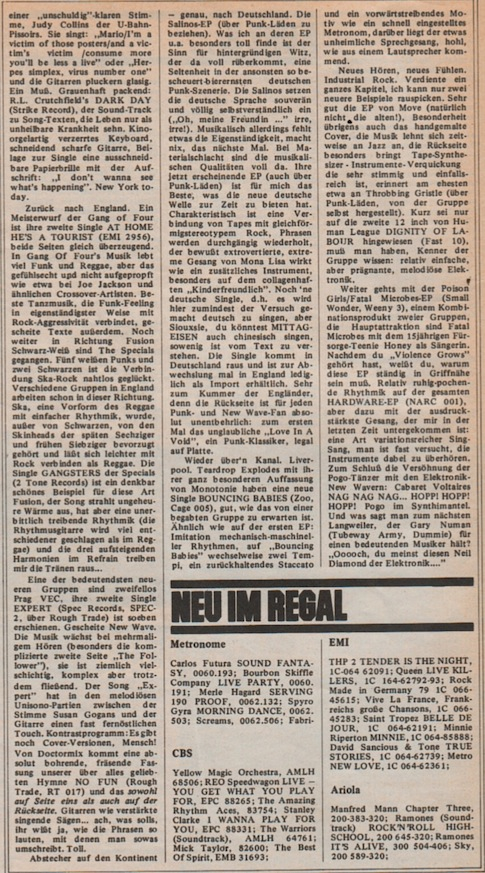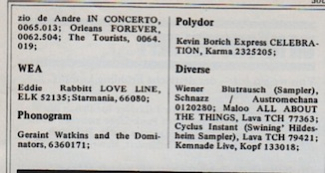 Tourneen
Metaboust
Ceddo
Emsland Hillbillies
Roger Chapman
Abba
Wallenstein
Gate
Umsonst Und Draußen
Internationale Jazztage Eutin
Weltfestspiele des Jazz in Westerland
3. Moerser Folk & Fool Festival
3 Open-Air Festival Idar-Oberstein
Sinclair
Stags
Desiree
Mass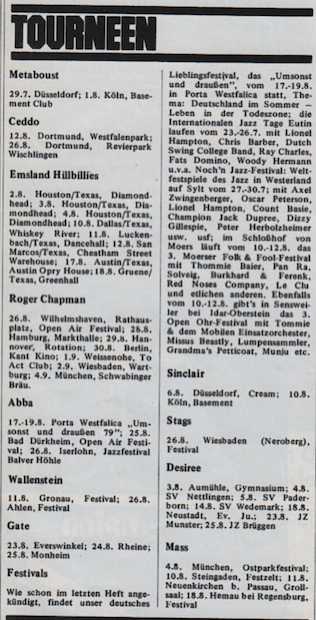 Kleinanzeigen