SOUNDS 130/Dezember '79
Cover: Devo

Leserbriefe
Dies & Das
Hear AND See Me! (Rock Videos in Kommen)
Big Mac schlägt zurück (WB veröffentlicht Tusk von Fleetwood Mac verfrüht, da schon lange von amerikanischen Radiostationen gespielt)
Der Papst singt (The Pope Sings von Infinity Records in den Läden)
Nachhilfe (jede Menge'Best Of' Alben veröffentlicht)
B-52's-Flop Muzik (Pop Muzik und Rock Lobster zu einem track durch den Wolf gedreht)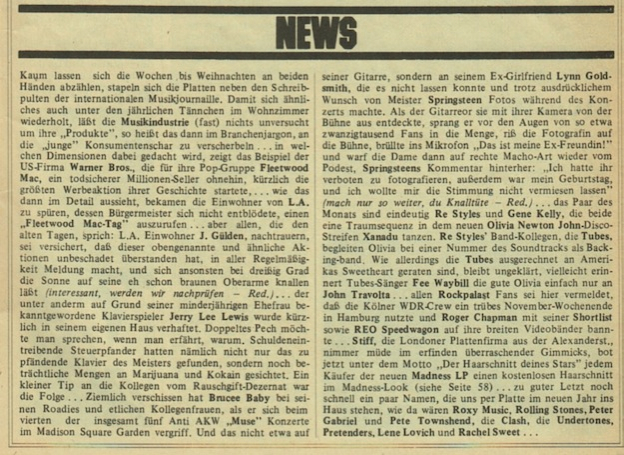 Meanwhile in New York…..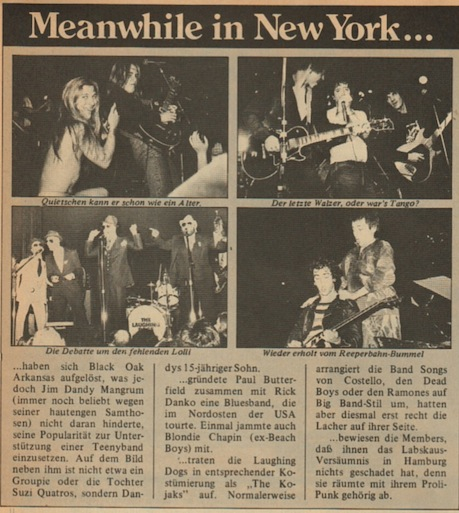 Styx-Wyx (keine Rezensionsexemplare für kritische Journalisten von Styx)
McLaughlin, Cobham, Bruce, Goldberg-Tournee, Arne Schumacher
Elvis-Clones (LP mit Elvis-Impersonators)
7. November (Lieder gegen Links - Gerd Knesel)
Wie man in den Wald ruft….(George Clinton mißfallen Textstellen auf 'Some Girls' der Stones)
Sägemehl und Gerri Reig (Multimedia Kunstereignis in Frankfurt), Alfred Hilsberg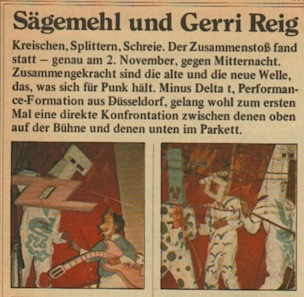 Dr. Feelgood - Ein satter Schuß….(live in der Hamburger Fabrik), Michael Schlüter
Horrorfilmfestival in München, Georg Seeßlen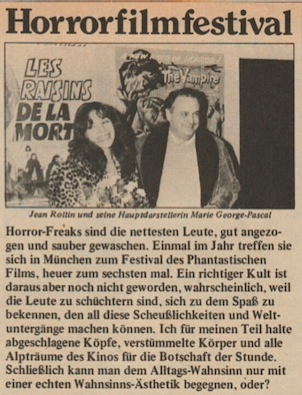 Die Schädel Bros.: (Keine) Vorsicht bei Gesprächen, Jörg Gülden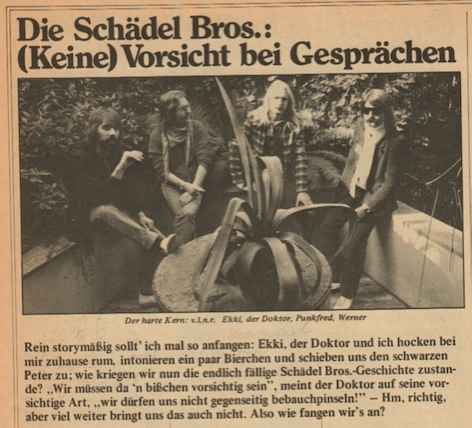 Royal Rasses - Ein unkonventioneller Rasta, Reinhard Kunert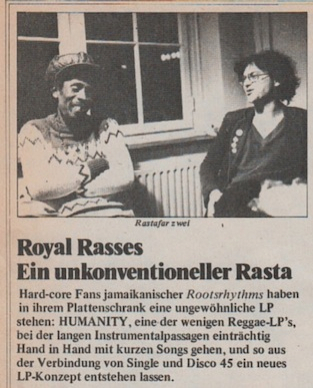 Features
Ihr Anteil an unserem Niedergang - Devo, Paul Morley




John Foxx - Tanz der Roboter, Alfred Hilsberg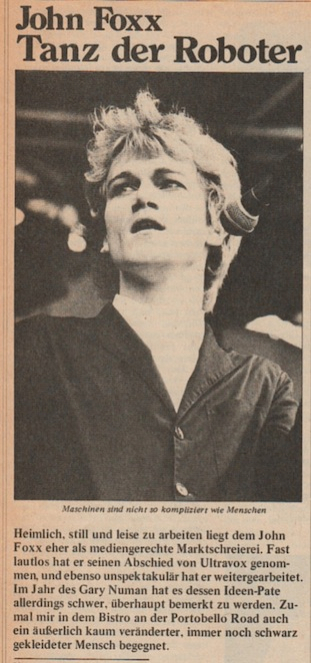 The Specials - Die Gangster des 2-Ton-Syndikats, John Orme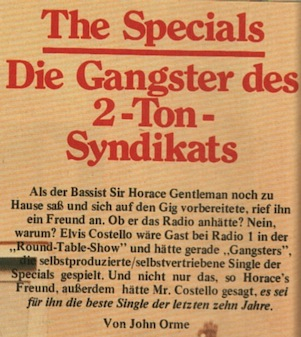 Tony Williams - Elektrizität und No Jazz, Arne Schumacher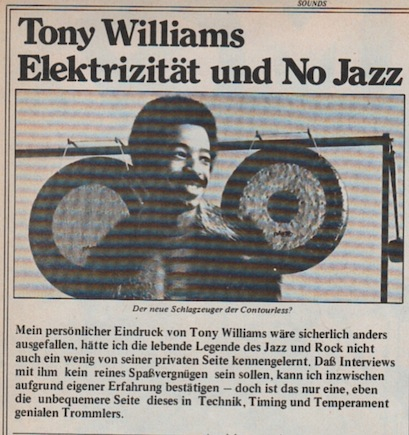 Schrapnell gegen Chauvinismen - The Slits, Vivien Goldman





Rollende Worte - Die Poesie des Rock 'n' Roll, Peter Urban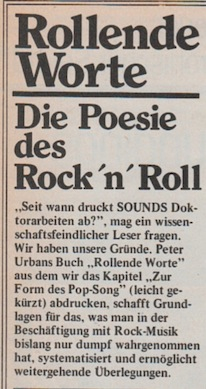 Macher? Macht? Moneten? - Aus grauer Städte Mauern (Teil 3), Alfred Hilsberg






Filme
Fritz Matthies, Paulines Geburtstag, Eric Oluf Jauch
Klaus Lemke, Arabische Nächte, Eric Oluf Jauch
Was sonst noch läuft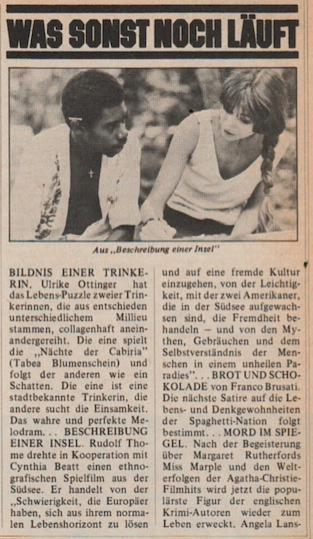 Bücher
Klaus Bädekerl, Alles über Geld und Liebe, Ingeborg Schober
Wolfgang Steinitz, Deutsche Volkslieder demokratischen Charakters aus sechs Jahrhunderten, Harry Lyme
Brigitte Rotkohl, Rock Frauen, Michael O.R. Kröher
Courage Sonderheft, Menstruation, Jill Vaudeville und Stefan Boas Kelle

Platten
Madness, One Step Beyond, Die drei von der Tankstelle
The Inmates, First Offense, Thomas Buttler
The Skids, Days In Europa & Fingerprintz, The Very Dab & Cowboys International, The Original Sin & Buzzcocks, A Different Kind Of Tension, Diedrich Diederichsen
Inga Rumpf, I Know Who I Am, Peter Urban
The Residents, Eskimo, Alfred Hilsberg
Marianne Faithful, Broken English, Ingeborg Schober
Fleetwood Mac, Tusk, Michael O.R. Kröher und Thomas Buttler
Edgar Froese, Stuntman, Manfred Gillig
Cabaret Voltaire, Mix Up, Hans Keller
Gang Of Four, Entertainment, Alfred Hilsberg
Funkadelic, Uncle Jam Wants You & Sly & The Family Stone, Back On the Right Track, Ewald Braunsteiner
Subterranean Modern, Same, Diedrich Diederichsen
Penetration, Coming Up For Air, Jürgen Legath
Richard & Linda Thompson, Sunnyvista, Michael O.R. Kröher
Elkie Brooks, Live And Learn, Ekki Schädel
Joe Jackson, I'm The Man, Hansi Hoff
Stevie Wonder, Journey Through The Secret Life Of The Plants, Ewald Braunsteiner
Tooth And Nail, Same, Diedrich Diederichsen
The Shoes, Present Tense, Michael O.R. Kröher
Essential Logic, Beat Rhythm News Waddle Ya Play?, Hans Keller
Garland Jeffreys, American Boy & Girl & Jimmy Buffett, Volcano, Ewald Braunsteiner
The Motels, Same, Michael Schlüter
The Beat, Same, Ekki Schädel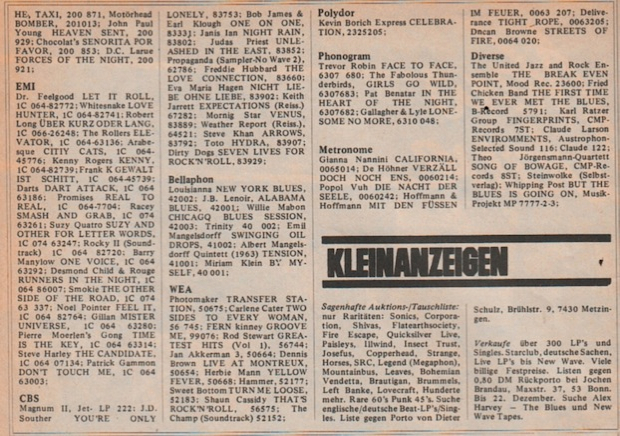 Tourneen
Police
Hot Chocolate
The United Jazz + Rock Ensemble
Grobschnitt
Wallenstein
Big Fletchit Trio
Elastic Rock Band
Aera
Desiree
Eulenspygel
Second Movement
Guru Guru Sunband
Anyone's Daughter
Epitaph
Falckenstein
Hölderlin
AC/DC
Steve Hillage
Steinwolke
Morgenrot
Circus
ES
City
1. Allgemeine Verunsicherung
Cry Freedom
Schröder Roadshow
Third Eye
Supertramp
Talking Heads
Boomtown Rats
Jango Edwards And The Friends Little Big Banned
Peter Bursch + die Bröselmaschine!
Banana Groove Band
The Frankfurt City Blues Band
Blutgruppe
Aquarell
XTC
European Jazz Quintett
To Be
Franz K.