SOUNDS 164/Oktober '82
Cover: Dexys Midnight Runners

Leserbriefe
Dies & Das
Elton John (sein Club F.C. Watford stieg in die erste Division auf)
Haircut One Hundred (touren zur Zeit durch die Statten, neue 7'' 'Nobody's Fool' in hübsches Poster verpackt)
Cale, Butterfield, Rundgren, Hunter (mit Benefiz Konzert für Vietnam-Veteranen)
Captain Sensible (ist erfolgreich in den britischen Charts und legt neues Album vor: 'Women And Captains First')
James Brown, Diedrich Diederichsen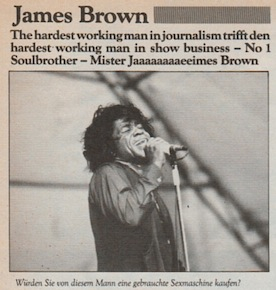 Abteilung Ärztewitze





Blondi fini?

Singles, Smutje Samuel Goldmann, Michael Ruff, Kid P., Diedrich Diederichsen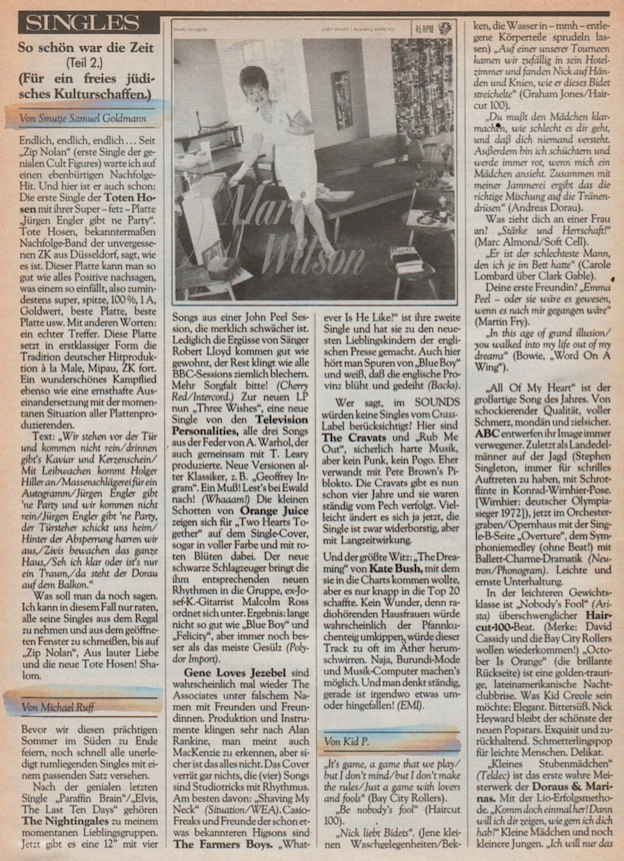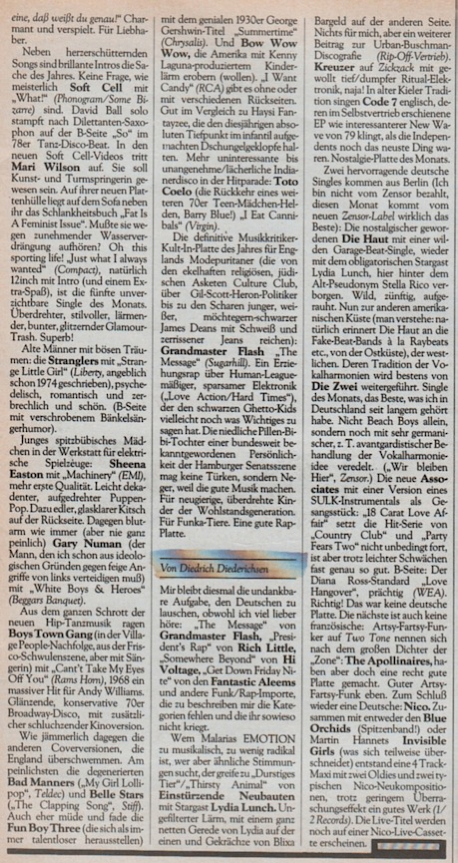 Die Tanzdiebe - Völlig klar im Kopf, Thomas Buttler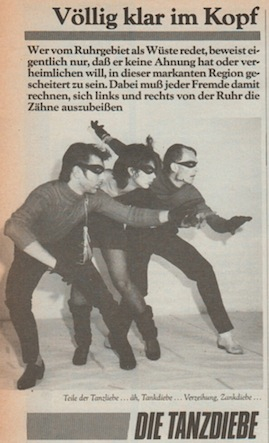 Lebendige und ein Toter, der weiter lebt, Jump Up - Flying Tigers, Hans Keller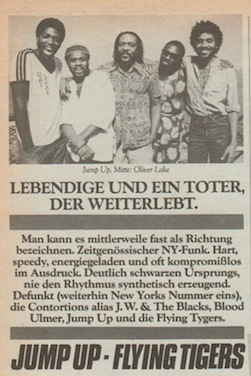 Mathilde Santing: Wo sind die Piano-Bars?, Doris D'Oro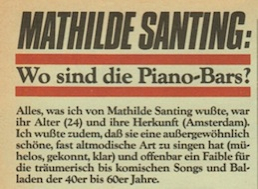 Features
New Orleans - Zwischen Gospel und Hardcore (Dritter Teil), Hans Keller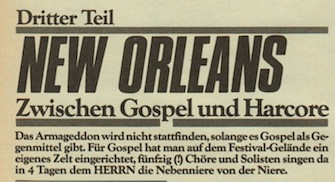 Filme von Jean-Marie Straub und Danièle Huillet - Die Augen wollen sich nicht zu jeder Zeit schließen…., Bettina Semmer und Inge Berger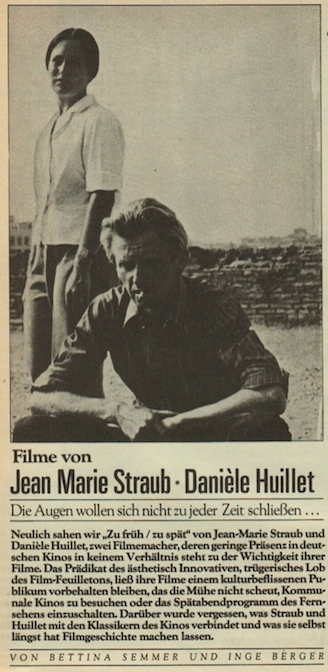 Sun Ra - Planetenmusik, René Mauchel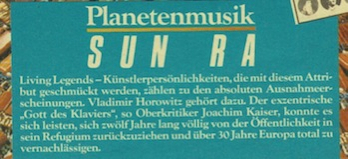 Joe Jackson, Harald inHülsen





Joe Jackson, Köln, 13.7.82, Doris D'Oro
Dexys Midnight Runners, Die Romantik der Revolution - Manifeste des jungen Souls, Diedrich Diederichsen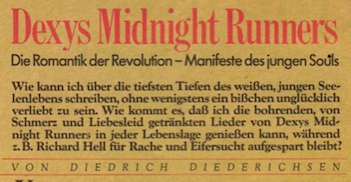 Hardcore '82 - Ein Führer durch die deutsche Punk-Szene, fünf Jahre danach, Alf Burchardt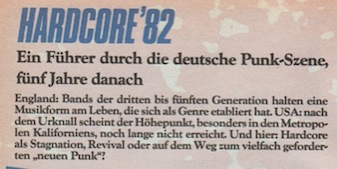 Filme
Albert Lewin, Pandora And The Flying Dutchman, Georg Seeßlen
Paul Schrader, Katzen-Menschen, Inge Berger und Diedrich Diederichsen
Ridley Scott, Der Blade Runner, Kid P.
Michael Wadleigh, Wolfen, Gad Klein
Video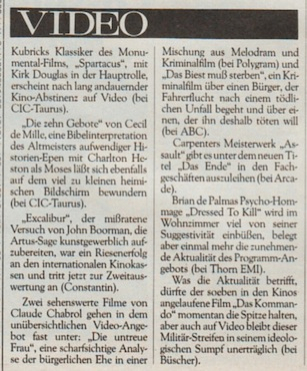 Was sonst noch läuft





Bücher
Manfred Becker, Peter Rüchel, Christian Wagner, Das Rockpalast Buch, Doris D'Oro
Greg Shaw's BOMP!, Jörg Gülden
Twen, Nr. 1, die Dritte, Michael O.R. Kröher

Platten
John Cale, Music For A New Society & Maureen Tucker, Playing Possum, Diedrich Diederichsen
Captain Beefheart And His Magic Band, Ice Cream For Crow, Jörg Gülden
Palais Schaumburg, Lupa, Hans Keller
Depeche Mode, A Broken Frame, Kid P.
Scritti Politti,Songs To Remember, Diedrich Diederichsen
Iggy Pop, Zombie Birdhouse, Harald inHülsen
The Nolans, Portrait, Tina Hohl
T.V. Personalities, They Could Have Been Bigger Than the Beatles, Ewald Braunsteiner
Plan 9, Frustration, Betty Weiss
Gun Club, Miami, Harald inHülsen
Malaria!, Emotion, Diedrich Diederichsen
Kool & The Gang, As One, Hans Keller
Sunny Ade, Étoile de Dakar, Ebenezer Obey und andere afrikanische Zauberkünstler, Klaus Frederking
Cassiber, Man Or Monkey, Ewald Braunsteiner
William Bootsy Collins, The One Giveth, Jens Kraft
Lost Gringos, Nippon Samba & Art Fleury, The Last Album, Konrad Schnabel
Soweto, Same, Klaus Frederking
Mathilde Santing, Same & Angelika Maisch,Endlich Satie!, Diedrich Diederichsen
Ski Und Der Rest, Saus Und Braus & Schön, Same & Feltmann Trommelt, Same, Michael O.R. Kröher und Alfred Kerr





The Monochrome Set, Eligible Bachelors, Ewald Braunsteiner
Gill Scott-Heron, Moving Targets, Ewald Braunsteiner
Krisma, Clandestine Anticipation, Roberto Fischer
Change, Sharing Your Love & Patrice Rushen, Straight From The Heart & Angela Clemmons, Same & Stacy Lattisaw, Sneakin'Out & Evelyn King, Get Loose & Stephanie Mills, Tantalizing Hot & Jeffrey Osborne, Same & The Time, What Time Is It? & Zapp, Zapp II & Aretha Franklin, Jump To It & Cheryl Lynn, Instant Love, Hans Keller

Kurz &
Music And Rhythm, K.F.
The Room, Indoor Fireworks, K.S.
Meta Puppets, M.R.
Mindrocker, Vol. 4
Battle Of The Garages & Charlie Harper, Stolen Property, H.W.
The Lost Joker, M.R.
The Work, Deficit des annnees antterieures, P16. D4, Smegma, Nurse With Wound, Laughing Hands, Masse Mensch, E.B.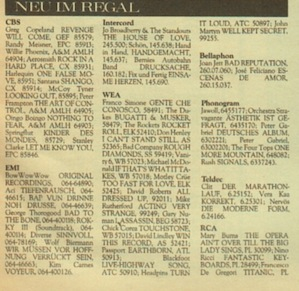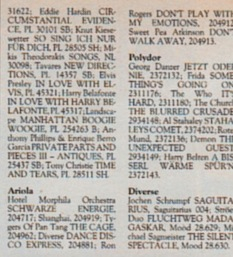 Kleinanzeigen

Tourneen
Myster Man
Harte Zeiten für Softies (Experimentalfilme von Peter Sempel zwischen Heino + Crass)
Gravenites/Cipollina Band
Die Krupps
Palais Schaumburg
Peter Bursch
Schlaflose Nächte
Kraan
Din A4
Modern
The Red Crayola with Art & Language: Die Haut
Blurt
Bröselmaschine
Neil Young
Acapulco Gold
Cassiber (Anders, Cutler, Goebbels, Harth)
Vera Kaa
Duran Duran
Japan
Kool & The Gang
Level 42
Motörhead & Killer
Joe Cocker
Drahdiwaberl
Otto
Cliff Richard
Hot Chocolate
WOM-Festival (Q-Ano, UKW, Hubert Kah, Markus, Morgenrot, Karat, Münchener Freiheit)
Blancmange
Powerplay
Bernhard Lavilliers
Guter Abzug Festival (Luzibär, Ja Ja Ja, Zack Zack Combo, X-mal Deutschland, Östro 430,
Die Toten Hosen
Milkshakes





Im nächsten Heft