SOUNDS 165/November '82
Cover: Public Image Ltd.

Leserbriefe
Dies & Das
Toto Coelo (neueste Entdeckung Barry Blues')
Imagination (2. LP auf dem Markt)
Squeeze (sind aus dem Rennen - Tilbrook und Difford arbeiten weiter zusammen)
Musical Youth (haben mit 'Pass The Dutchie' in einer Woche mehr Singles abgesetzt als die Beatles während ihrer Glanzzeit)
Christiane F. (nahm mit Musikern der Rip-Off-Clique eine Maxi auf und läßt von Rodney Bingenheimer hergestellte Bänder stoppen)
Guter Abzug-Festival, Hamburg, Versuchsfeld (Luzibär, X-mal Deutschland, Hermine, Östro 430), Konrad Schnabel
Hamburger Musikwochen (der Kulturbehörde Hamburg unter dem Motto 'Musik zwischen E und U')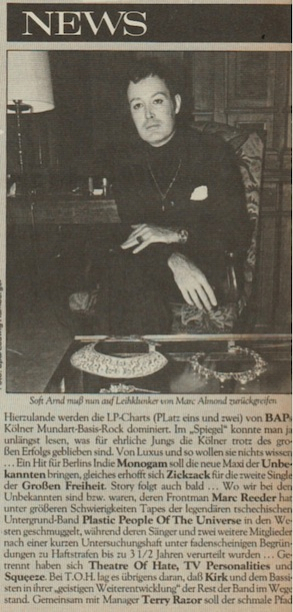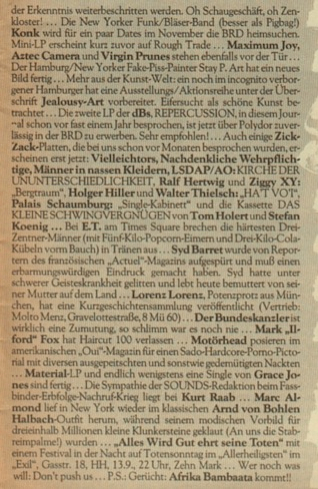 Misty in Roots (mit neuem Album 'Wise And Foolish' wieder in Europa zu hören)
The Final Academy (Spektakel zu Ehren William Burroughs)
Singles, Ewald Braunsteiner, Jörg Gülden, Kid P.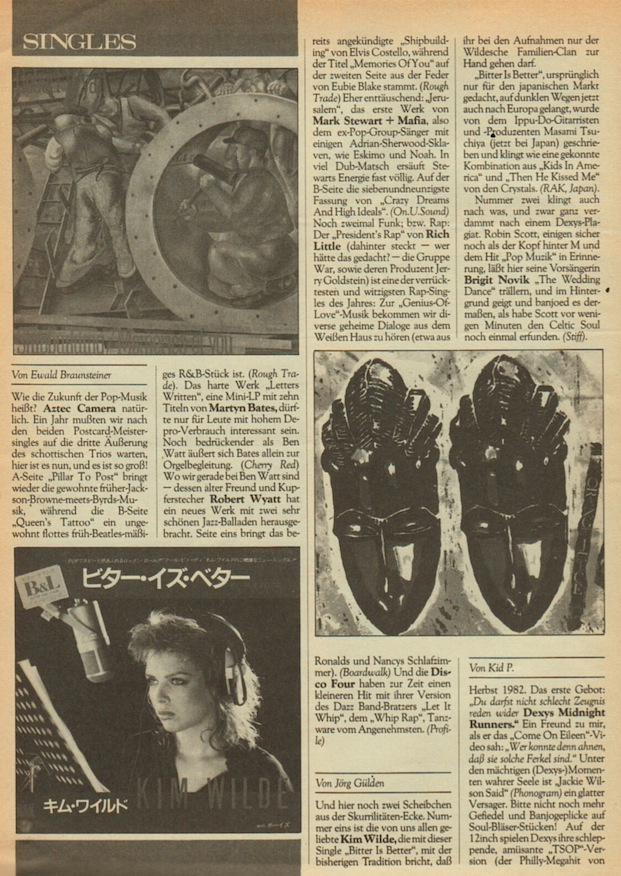 Noodband - Doppelt hält besser, René Mauchel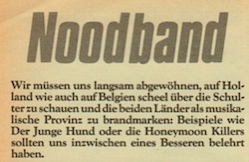 Der Traum von übergestern - Family Five, Michael O.R. Kröher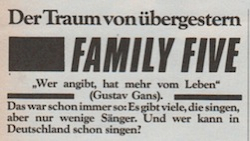 Features
MPB - Musica Popular Brasil, Eberhardt Steinkrüger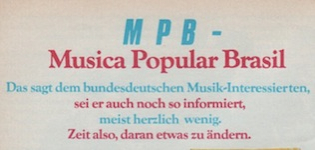 Träumen Futuristen von elektronischen Entertainern? (Futurama-Festival), Joachim Stender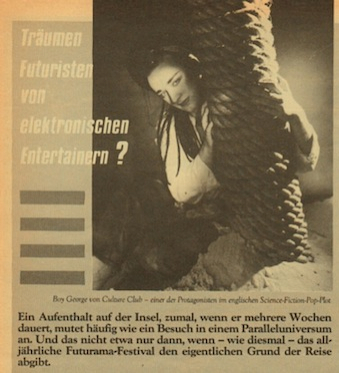 Das Allen-Toussaint-Interview, Hans Keller





Phono-Akademie Pop-Nachwuchs-Festival '82 - Dem Nachwuchs keine Chance, Jörg Gülden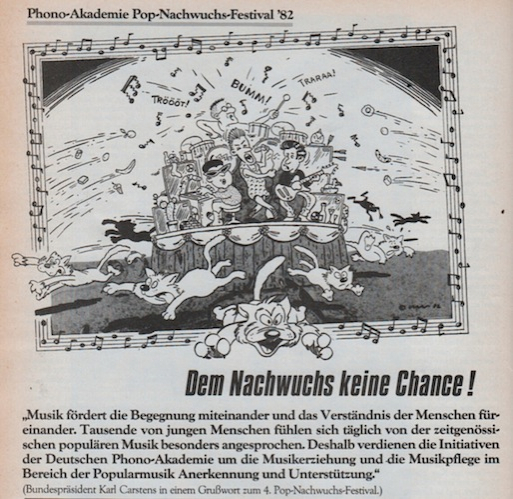 Die Wahrheit über Wien, Xao Seffcheque, O.R.A.V. O.R.A.Ü.I. (ohne Rücksicht auf überhaupt irgendetwas)



Macher Möchtegerns Moneten, Konrad Schnabel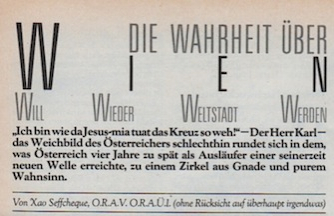 The Lexicon Of Love, 2. Teil, Fred Specht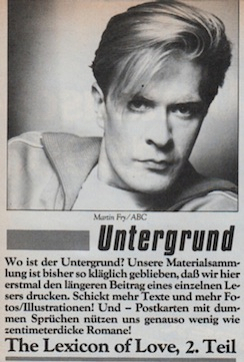 007 Der Kult der neuen Saison, von den O.R.A.V.S. - Xao Seffcheque und Peter Hein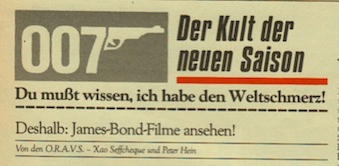 New York im Herbst - Pil sind zurück! - Oder: meine schönsten Ferienerlebnisse, Diedrich Diederichsen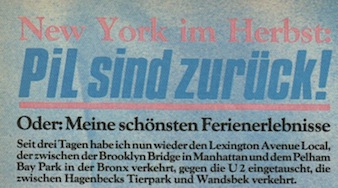 Bow Wow Wow und Altered Images, Kid P.





Monochrome Set - Monarchie und Alltag, Ewald Braunsteiner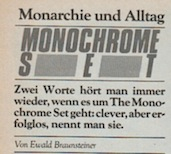 Filme
Tobe Hoper / Steven Spielberg, Poltergeist & Steven Spielberg, E.T. - Der Ausserirdische, Kid P.
Rainer Werner Fassbinder, Querele, Gad Klein
Francis Ford Coppola, Einer Mit Herz, Gad Klein
Video
Was sonst noch läuft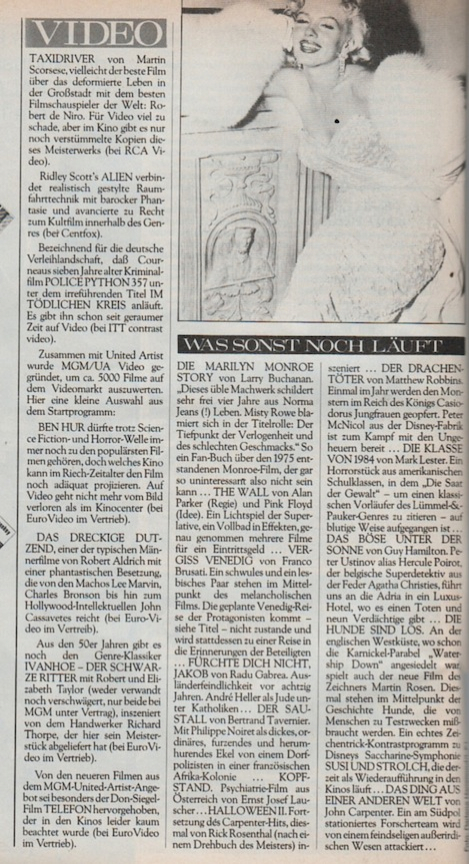 Bücher
Lee Raintree, Dallas & Burt Hirschfeld, Die Frauen von Dallas Die Männer von Dallas, Michael O.R. Kröher
Volume II - International Discography Of The New Wave, Hans Keller

Platten
James White And The Blacks, Sax Mania, Hans Keller
Grandmaster Flash & The Furious Five & Johnny Thunders And The Heartbreakers, D.T.K., Diedrich Diederichsen
Donald Fagan, The Nightfly, Ewald Braunsteiner
Vanity 6 & Prince, 1999 & D. Train, You're The One For Me, Jörg Gülden
Klar Und Wahr - SOUNDS Rettet Deutschland & Die Vize-Weltmeister, Tina Hohl
The Fall, Room To Live, Ewald Braunsteiner
Simple Minds, New Gold Dream, Kid P.
Ronald Shannon Jackson & The Decoding Society, Man Dance, René Mauchel
Kurtis Blow, Tough, Hans Keller
Culture Club, Kissing To Be Clever & UB 40, UB 44, Konrad Schnabel
The Psychedelic Furs, Forever Now, Ewald Braunsteiner
Foyer Des Arts, Von Bullerbü Nach Babylon, Jens Kraft
The Red Crayola With Art & Language, Corrected Slogans, Diedrich Diederichsen
The Au Pairs, Sense And Sensuality, Michael O.R. Kröher
Dollar, The Dollar Album, Kid P.
Ludus, Danger Come Smiling, Ewald Braunsteiner
The Four Tops, One More Mountain & Tavares, New Directions & Willie Phoenix, Same & Dionne Warwick, Heartbreaker & High Fashion, Feelin' Lucky & Instant Funk, Looks So Fine, Ewald Braunsteiner
Outer Circle, Same & Super Heroines, Cry For Help, Jörg Gülden
Gino Soccio, Face To Face & Gwen Guthrie, Same & Luther Vandross, Forever, For Always, For Love & Zinc, Streetlevel & B.T. Express, Keep It Up & Gang's Back, Same & Dayton, Hot Fun & Bill Summers And Summers Heat, Seventeen, Hans Keller
Marc And The Mambas, Untitled, Kid P.
Yukihiro Takahashi, What Me Worry?, Willi Andresen
Diverse, Sinnvoll, Michael O.R. Kröher
Shriekback, Tench, Ewald Braunsteiner
Baby Consuelo, Canceriana Telurica & Jao Gilberto Prado Pereira de Oliveira, Especial & Elis Regina, 13th Montreux Jazz Festival & Caetano Veloso, Cores, Nomes, Ewald Braunsteiner
Thomas Diethelm, Shaved & Irwin (!) Schmidt, Filmmusik Vol. II & Can, Delay, Xao Seffcheque und Gerald Leyking
Buchner, Haindling I & Wolf Mahn, Deserteure & Ernst, Für Fried' Und Ruh' & Kowalski, Schlagende Wetter, Jörg Gülden
Hardcore für Fortgeschrittene, heute: Amipunk, Alf Burchardt
Daily Terror, Schmutzige Zeiten & Sluts, BÄH!!! & Notdurft, Notdurft!, Alf Burchardt

Cassetten, GEN 82




Kurz &
Mindrocker, Vol. 5, B.W.
Willie Alexander, SoloLoco
Peter Hoffman, Rock Classics, J.G.
Alvaro, Repetition Kills
Al Kooper, Championship
John's Children, The Legendary 'Orgasm' Album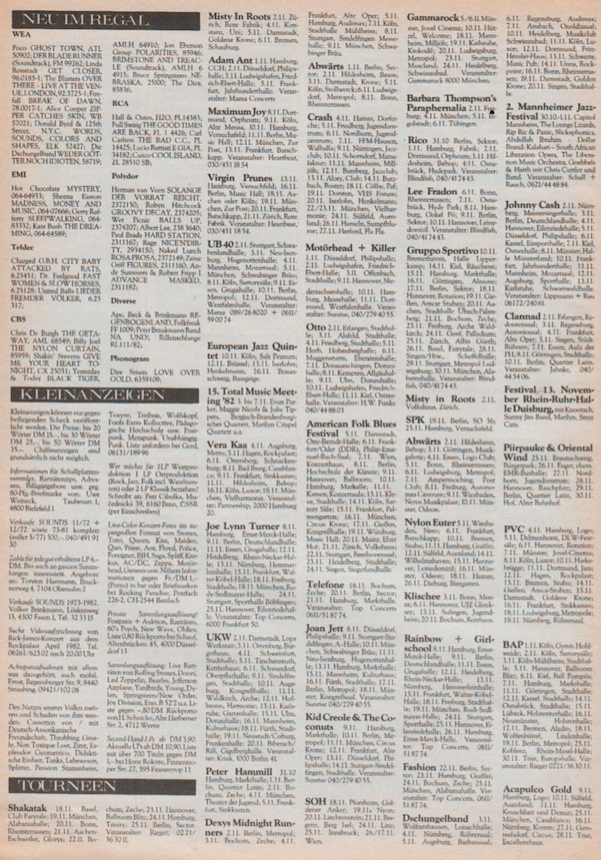 Kleinanzeigen

Tourneen
Shakatak
Misty In Roots
Adam Ant
Maximum Joy
Virgin Prunes
UB 40
European Jazz Quintet
15. Total Music Meeting '82 (Evan Parker, Maggie Nichols & Julie Tippets, Bergisch-Brandenburgisches Quartett, Marilyn Crispel Quartett)
Vera Kaa
Joe Lynn Turner
UKW
Peter Hammill
Dexys Midnight Runners
Abwärts
Crash
Motörhead + Killer
Otto
American Folk Blues Festival
Telefone
Joan Jett
Kid Creole & The Coconuts
SOH
Gammarock
Barbara Thompson's Paraphernalia
Rico
Lee Fradon
Gruppo Sportivo
SPK
Abwärts
Nylon Euter
Klischee
Rainbow + Girlschool
Fashion
Dschungelband
2. Mannheimer Jazz Festival (The Lounge Lizards, Rip Ric & Panic, Slickaphonics, Abdullah Ibrahim - Dollar Brand - South African Liberation Opera, The Liberation Music Orchestra, Goebbels & Harth mit Chris Cuttler und Band)
Johnny Cash
Clannad
Festival 13. November Rhein-Ruhr-Halle Duisburg (Knootsch, Sunny Jim Band, Marilyn, Stray Cats)
Piirpauke & Oriental Wind
PVC
BAP
Acapulco Gold

Im nächsten Heft