SOUNDS 156/Februar '82

Leserbriefe
Dies & Das
Ian Dury (trägt Lady Di/Prince Charles T-Shirt)
Schlaflose Nächte (holländische Band legt demnächst neue Maxi vor)
Detlef Diederichsen (wurde besprechungstechnisch bisher von diesem Blatt ignoriert)
Leben und Arbeiten (erste Single von Blixa Bargeld produziert)
Genesis P. Orridge (produziert Debüt-Lp von 23 Skidoo)
Scritti Politti (erste LP kurzfristig zurückgezogen)
Sil Vester-Frust - Versuchsfeld / Hamburg, Kid P. auf einer Veranstaltung der NDW
Galerie Odem / Hannover, Rosa





Kosmonautentraum - Mit Trompeten in die Idylle, Christine Heise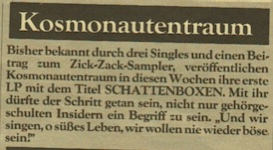 Poll '81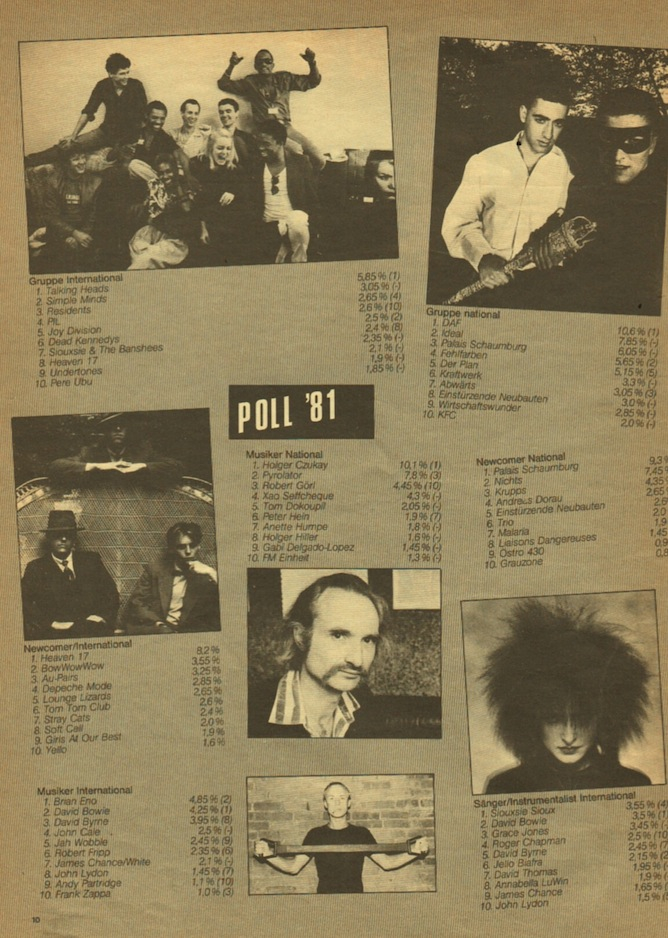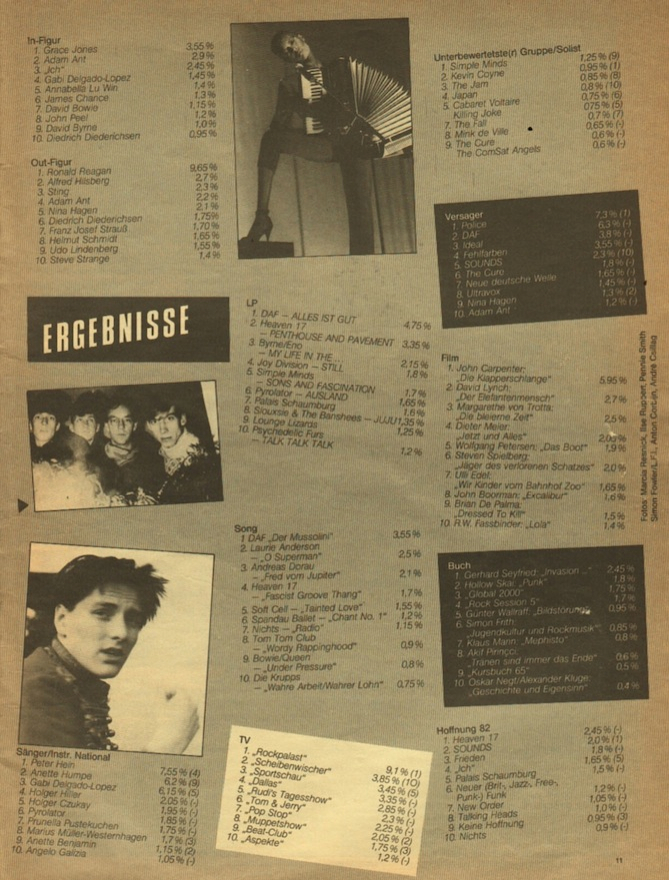 Bärchen und die Milchbubis, Pogo mit menschlichem Antlitz oder Hans Jörg Felmy und die Stoischen Skinheads, Diedrich Diederichsen





Singles, Diedrich Diederichsen, Michael Ruff, Jörg Gülden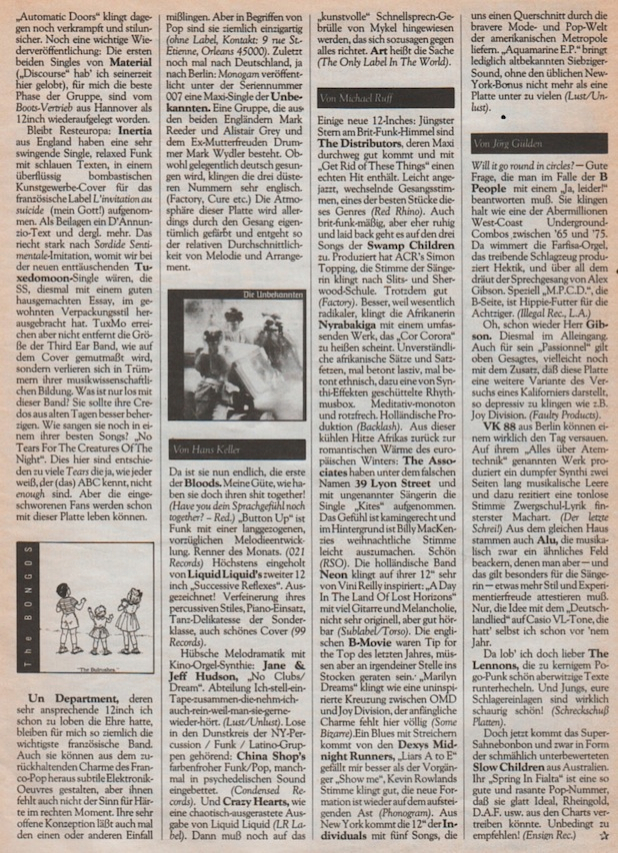 Patrick Gammon - Glamrock, Ewald Braunsteiner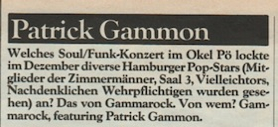 Diskurs - Falsche Freunde gibt es überall (2. Teil) oder Aufbruch zu den Sternen, Gröfaz und Goldmann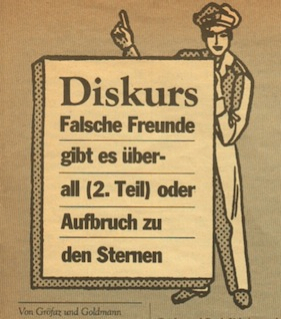 1. Gülden Stösst auf Gold (T); 2. Nach allen Seiten offen (mit klaren Likes und Dislikes) - Foyer des Arts, Jörg Gülden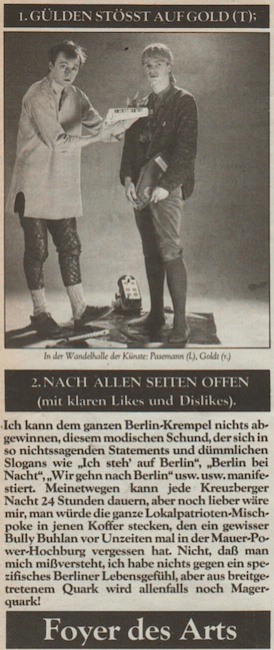 nutron romantics (comic)





Riuichi Sakamoto, Hide Sasaki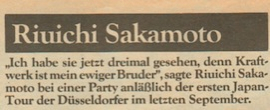 Offener Brief an den deutschen Pöbel, Werner Bittner





Features
Amsterdam - Holland in Not, Ingeborg Schober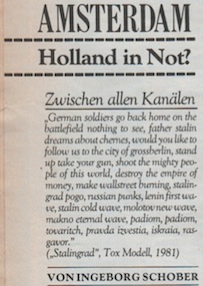 Wer ist Anthony Moore? Erster Teil, Harald inHülsen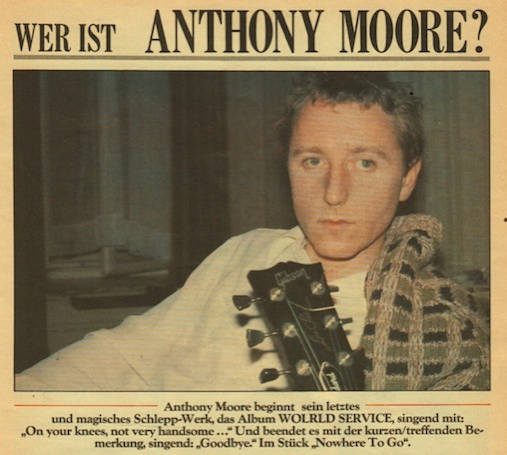 Heaven 17 - Antifascho-Funk mit Hindernissen, Diedrich Diederichsen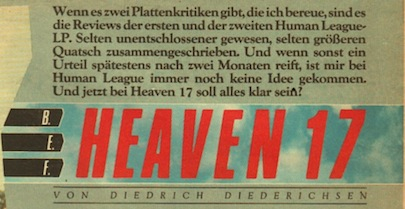 Südamerika, Exotik zwischen Nostalgie und Zukunft - Bolivien, das 'Tibet Südamerikas', Schluß, Eberhardt Steinkrüger





Human League & OMD - Clever & Smart, Xao Seffcheque O.R.A.V.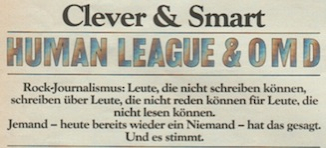 Motörhead - Django vergibt, Don Lemmione nie!, Jörg Gülden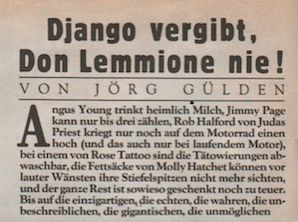 Filme
Gerald Potterton, Heavy Metal, Jörg Gülden
Mel Brooks, Verrückte Geschichte der Welt, Teil 1, Kid P.
Robert Altman, Popeye, der Seemann mit dem harten Schlag, Jörg Gülden
Christian de Chalongne, Malevil, Eric Oluf Jauch
Was sonst noch läuft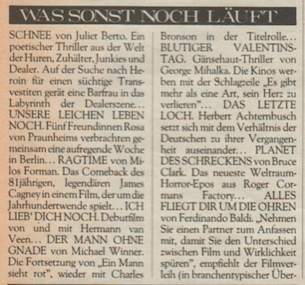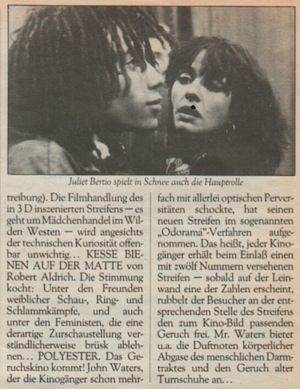 Bücher
Florian Pauer, Die Edgar Wallace-Filme, Kid P.
Boris Penth / Günter Franzen, Last Exit, Klaus Frederking
Eberhard Knödler-Bunte /(Hrsg.), Was ist heute noch links?, Michael O.R. Kröher
Walter Hartmann / Gregor Pott (Hrsg.), Rocksession 6 - Magazin der populären Musik, Jörg Gülden

Television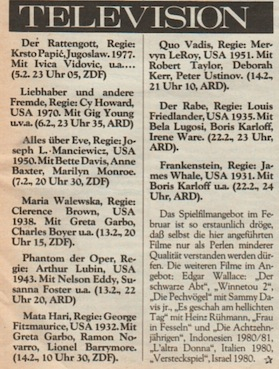 Platten
Lou Reed, Blue Mask, Diedrich Diederichsen
Frank Sinatra, She Shot Me Down, Harald inHülsen
Pete Shelly, Homosapien, Ewald Braunsteiner
Mittagspause, Punk Macht Dicken Arsch & Sampler, Alles Oder Nichts, Harald Inhülsen
Die Kapazität, Kleine Stimmen, Michael O.R. Kröher
S.Y.P.H., Same, Xao Seffcheque O.R.A.V.
Ludus, The Seduction, Michael Ruff
Minimal Man, The Shroud Of & Indoor Life, Same, Franziska D. Graf
Tav Falco's Panther Burns, Behind The Magnolia Curtain, Harald Inhülsen
Venus Weltklang First International Women's Rock Festival, Thomas Buttler
Der KFC, Knülle Im Politbüro, Xao Seffcheque O.R.A.V.
The Upsetters, Blackboard Jungle Dub & Scientist, Scientist Rids The World Of The Evil Course Of The Vampires & Greensleeves, Same, Klaus Frederking
TV Personalities, Mummy Your Not Watching Me, Ewald Braunsteiner
The Meteors, In Heaven, Jörg Gülden
The Honeymoon Killers, Same, Ewald Braunsteiner
Joy Rider, Same, Doris D'Oro
Scott Walker Sings Jaques Brel, Kid P.
Riuichi Sakamoto, Left Hand Dream, Thomas Feldmann
Bill Nelson, The Cabinet Of Doctor Caligari & Blah Blah Blah, Same & Symphony For A Genocide, Same, Frieder Butzmann
Ippu-Duo, Radio Fantasy, Thomas Feldmann
Dislocation Dance, Music, Music, Music & Diagram Brothers, Some Marvels Of Modern Science, Ewald Braunsteiner
Hertz, Same, Diedrich Diederichsen
Bernward Büker Band, Herzlichen Glückwunsch Zur Psychose & Die Wüste Lebt, Same & Soldiers Of Fortune, Waiting For World War III & Zusatzzahl, Mehr Mut Zum Zufall, Jörg Gülden
Insisters, Moderne Zeiten & The Bitch Band No. 1, Zirrrrpppppp!, Michael O.R. Kröher
Sampler, Making Waves & Schau Hör Main Herz Ist Rhein & Wild Paarty Vol 1 & Red Spot, Diedrich Diederichsen

Cassetten, Gen 82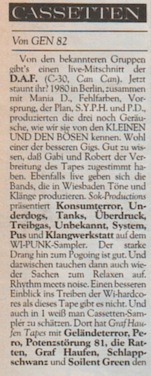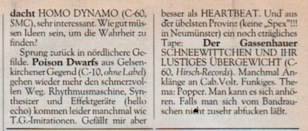 Kurz Und….
Norman Salant, Saxophone Demonstrations
Chantons Noel - Ghosts Of Christmas Past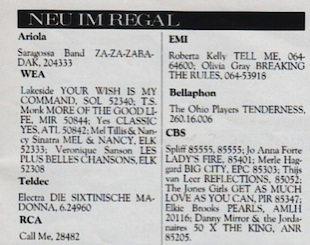 Kleinanzeigen

Tourneen
Orchestral Manoevres In The Dark
Ry Cooder
Earth, Wind & Fire
Bleibtreu Revue
Nichts
Trio
Flo & Eddie plus Band
ELO
Pigpag
Ton Steine Scherben
D.A.F.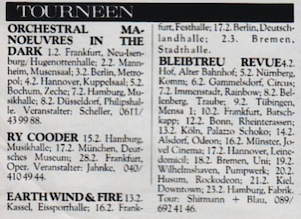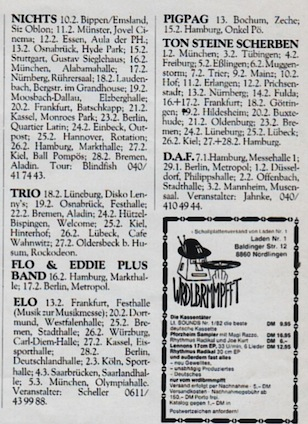 Im nächsten Heft