SOUNDS 162/August '82
Cover: Palais Schaumburg

Leserbriefe

Klar und Wahr! - Sounds rettet Deutschland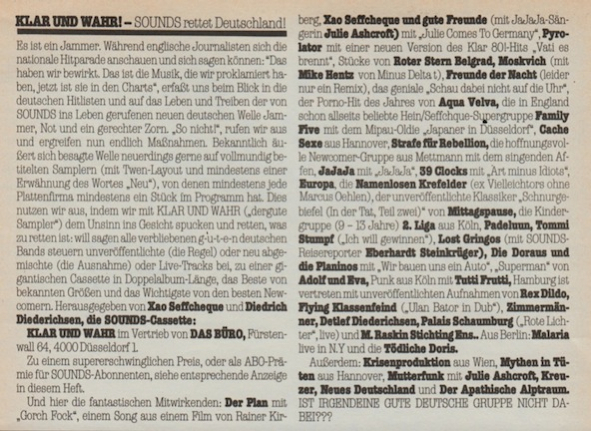 Dies & Das
Kim Wilde (wurde mit 66 % aller gültigen Stimmen zur klügsten und hübschesten Frau des ersten Halbjahres 1982 gewählt)
Virgin Prunes (erste offizielle Pressefotos)
39 Clocks ('Art Minus Idiots' auf dem SOUNDS Cassetten-Sampler)
Dollar (sind in den Kreis der D&D Bands geraten)
Tom Holert & Stefan Koenig (Cassette 'Kleines Schwingvergnügen')
Angelika Meisch (LP 'Endlich! Satie')
Documenta Musik, Konrad Schnabel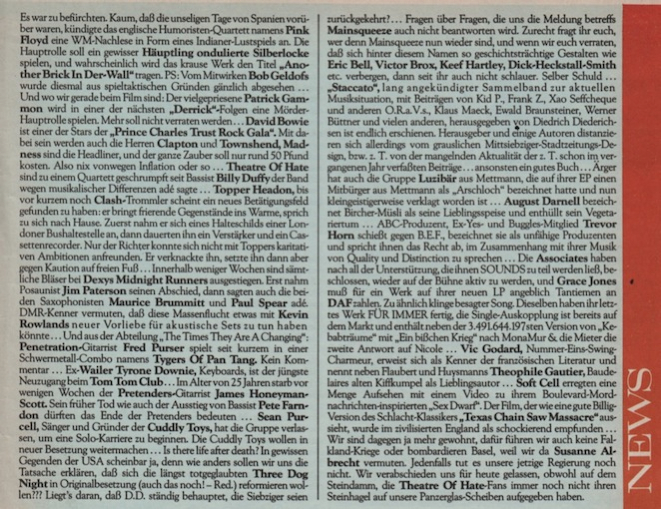 Zatopek, Erwin Matthöfer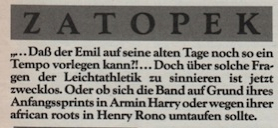 Singles, Jörg Gülden, Ewald Braunsteiner, Michael O.R. Kröher, Harald inHülsen, Michael Ruff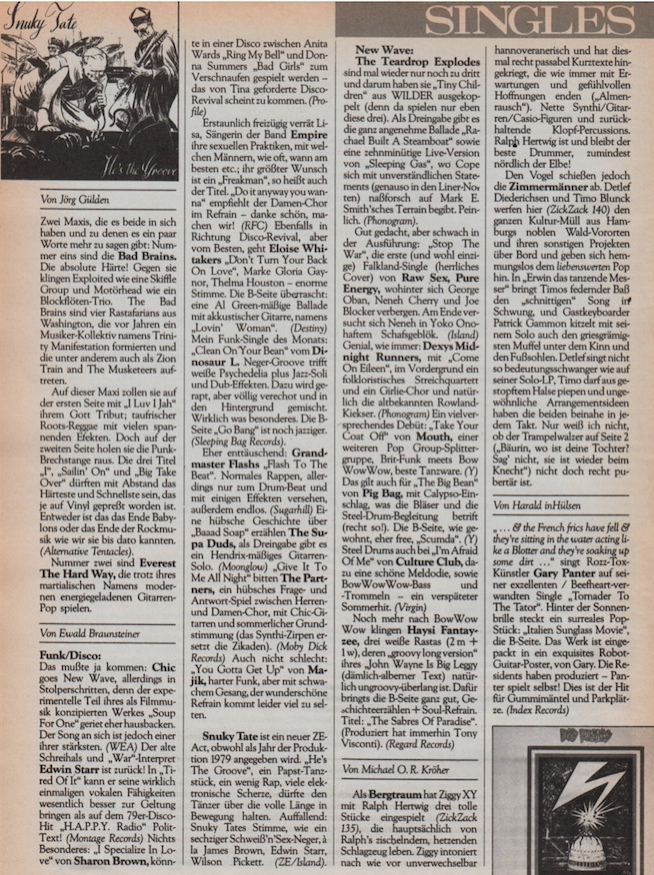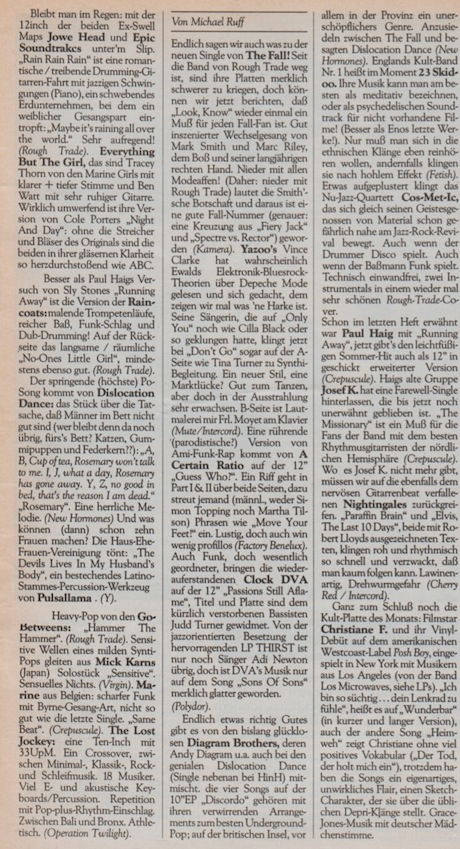 Features
Scritti Politti - Wie Rough Trade's Revolutionäre Pop entdeckten und dabei (fast) mit dem Grübeln aufhörten., Anthony Denselow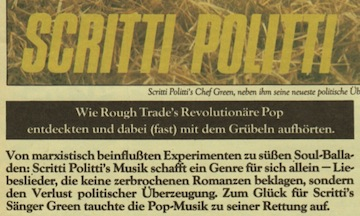 Diana (Ross), Documenta und all die anderen - Notizen aus der Hochsaison, Diedrich Diederichsen





NDDW, Neue Musik aus der DDR - die real existierende Welle (Teil 1), Tim Renner, Thomas Meins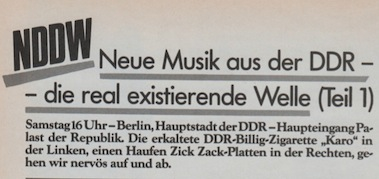 Nick Lowe - Dieb, Bär und Charmeur oder Es gibt keine Stars mehr, Doris D'Oro





Manaam - Schneller, härter, lauter - mit Stratocaster gegen Vinylknappheit, Laf Überland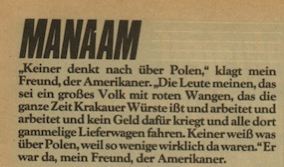 Die Wahrheit über München, Richard L. Wagner und Ian Moorse





Tom Robinson, Jörg Gülden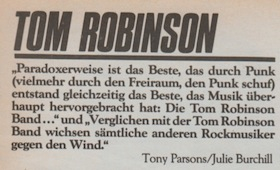 Ein Alster-Spaziergang mit Andreas Dorau, Ewald Braunsteiner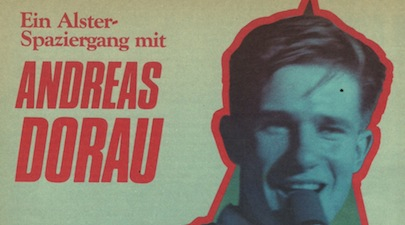 Exklusiv: Die Marinas im Gespräch, Kid P.
Palais Schaumburg - Palais's Got A Brandnew Schaumburg, Diedrich Diederichsen




Heinz-Rudolf Kunze - Kleinbürgerkrieg, Michael O.R. Kröher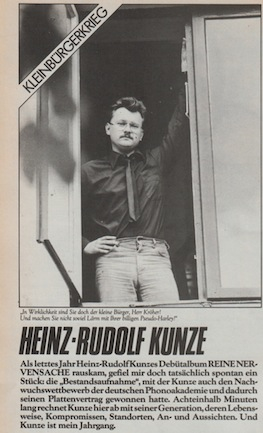 Ball Of Confusion, Kid P.
New Orleans - Der Sound einer Stadt (Teil 1), Hans Keller

Filme
Akira Kurosawa, Yojimbo, Eric Oluf Jauch
Niklaus Schilling, Zeichen und Wunder, Inge Berger
Video
Was sonst noch läuft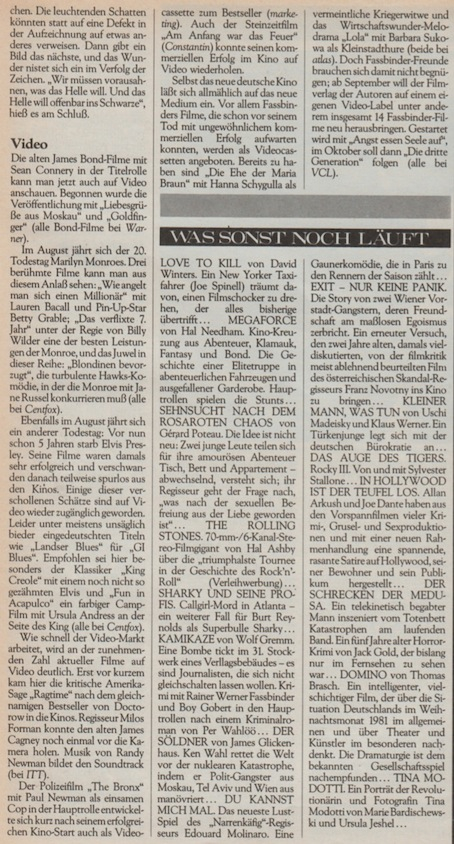 Bücher
Michel Ciment, Kubrick, Felix Reisenbach
Veranda Spuk, Mein Flirt, Diedrich Diederichsen
Ekkhard Jost, Jazzmusiker, René Mauchel

Platten
ABC, The Lexicon Of Love, Kid P.
Rip, Rig & Panic, I Am Cold,
Elvis Costello And The Attractions, Imperial Bedroom, Jörg Gülden
Richard Hell & The Voidoids, Destiny Street, Hans Keller
Joe Jackson, Night And Day, Harald inHülsen
The Exploited, Troops Of Tomorrow & Chron Gen, Chronic Generation & Anti-Nowhere League, We Are…The League & Anti-Pasti, Caution In the Wind & The 4 Skins, The Good, The Bad & The 4 Skins & Vice Squad, Stand Strong Stand Proud & Discharge, Hear Nothing See Nothing Say Nothing, Michael Ruff
Y Pants, Beat It Down, Hans Keller
Kevin Coyne, Politicz, Klaus Frederking
Flipper, The Generic Album, Alf Burchardt
Trouble Funk, Drop The Bomb & Candi Staton, Nightlites & High Energy, So Right & The Stylistics, Same & Ashford & Simpson, Street Opera, Ewald Braunsteiner
The Passage, Degenerates, Harald inHülsen
Carmen, Puppe Aus Glas, Michael O.R. Kröher
Anette Peacock, Sky Skating, Diedrich Diederichsen
Soundtracks Zum Untergang 2 & Killerpralinen & Tödliche Dosis, Konrad Schnabel
Soft Cell, Non Stop Ecstatic Dancing, Kid P.
ZK, Leichen Pflasterten Ihren Weg (Live), S. Goldman, (J.i.a.u.w.i.d.)
The Deep Freeze Mice, The Gates Of Lunch, Diedrich Diederichsen
Fashion, Fabrique, Michael Ruff
John Cooper Clarke, Zip Style Method, Thomas Buttler
Bim Sherman, Across The Red Sea & Capital Letters, Vinyard & Rico, Jama Rico, Klaus Frederking
X, Under the Big Black Sun, Jörg Gülden
Minny Pops, Sparks In A Dark Room & Hours (Sampler) & The Names, Swimming, Michael Ruff
Recommended Records Sampler & Offenen Systeme, Diedrich Diederichsen


Kurz &
The Shakin' Pyramids, Celts And Cobras
Positive Noise, Change Of Heart
Thomas Dolby, The Golden Age Of Wireless
Hambi And The Dance, Heartache
Section 25, The Keys Of Dreams, M.R.
Swell Maps, Collision Time, HH. inH.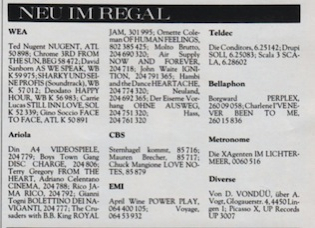 Kleinanzeigen

Tourneen
6. Odenwald Festival (Tri Atma, Tja, Shoobedoo, Panzerknacker, Paramshivan + Dadadogs, Rasaki, Neumeiers neue Psychedelia, Funk Parisien, Acapulco Gold, Flavour)
Radio Noisz Ensemble
Bauer, Garn & Dyke
2nd Hard-Heavy-Rock-Festival Gunzenhausen (Rascal, Beast, Maggies Madness, Killer, Fargo)
Bernie's Autobahn Band
Rodgau Monotones
Colin Wilkie
Flatsch
Semaja
Klaus Lage & 'Druck'




Im nächsten Heft